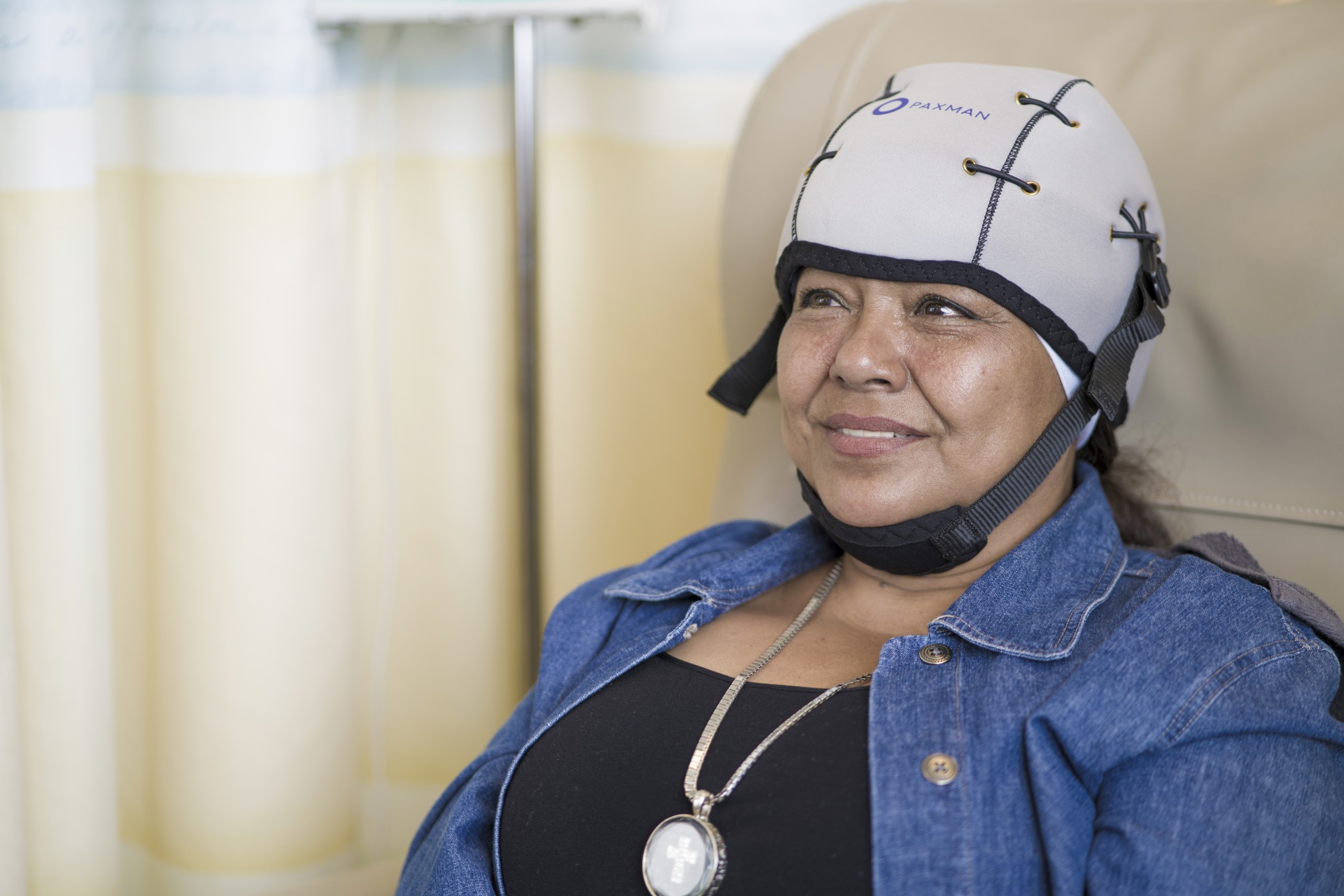 Hair loss has long been an issue for many patients undergoing chemotherapy for cancer. Now ground-breaking, scalp cooling hair loss prevention technology offered at Smilow Cancer Hospital at Yale New Haven is available for patients at Smilow Cancer Hospital Care Center locations in Fairfield, Greenwich, Guilford, Orange, Torrington, and Trumbull.  
The Paxman Scalp Cooling System (also known as cold cap treatment) works by reducing the temperature of the scalp by a few degrees immediately before, during, and after the administration of chemotherapy. This reduces blood flow to hair follicles and helps prevents chemotherapy drugs from destroying the follicles when they grow. The cooling technology has been approved by the U.S. Food and Drug Administration.  
"Many patients are troubled by the thought of losing their hair, an upsetting side effect of treatment," said Sarah Mougalian, M.D., assistant professor of Medicine (Medical Oncology) at Yale Cancer Center and Deputy Chief Ambulatory Officer at Smilow Cancer Hospital. "This technology can be empowering in someone's battle against cancer. We're excited more patients will now have the opportunity to use it."  
Scalp cooling can be utilized with all solid tumor cancers that are treated with chemotherapy drugs. The Paxman system allows more control, precision, and coverage than traditional scalp cooling treatments like cold caps and dry ice. The lightweight design provides a close fit around the patient's head.
There are out of pocket patient costs associated with scalp cooling treatment. Financial resources may be available to support patients in need of assistance. 
For more information about scalp cooling you can visit our website at: https://www.yalecancercenter.org/patient/care/paxman/
Submitted by Anne Doerr on February 11, 2020