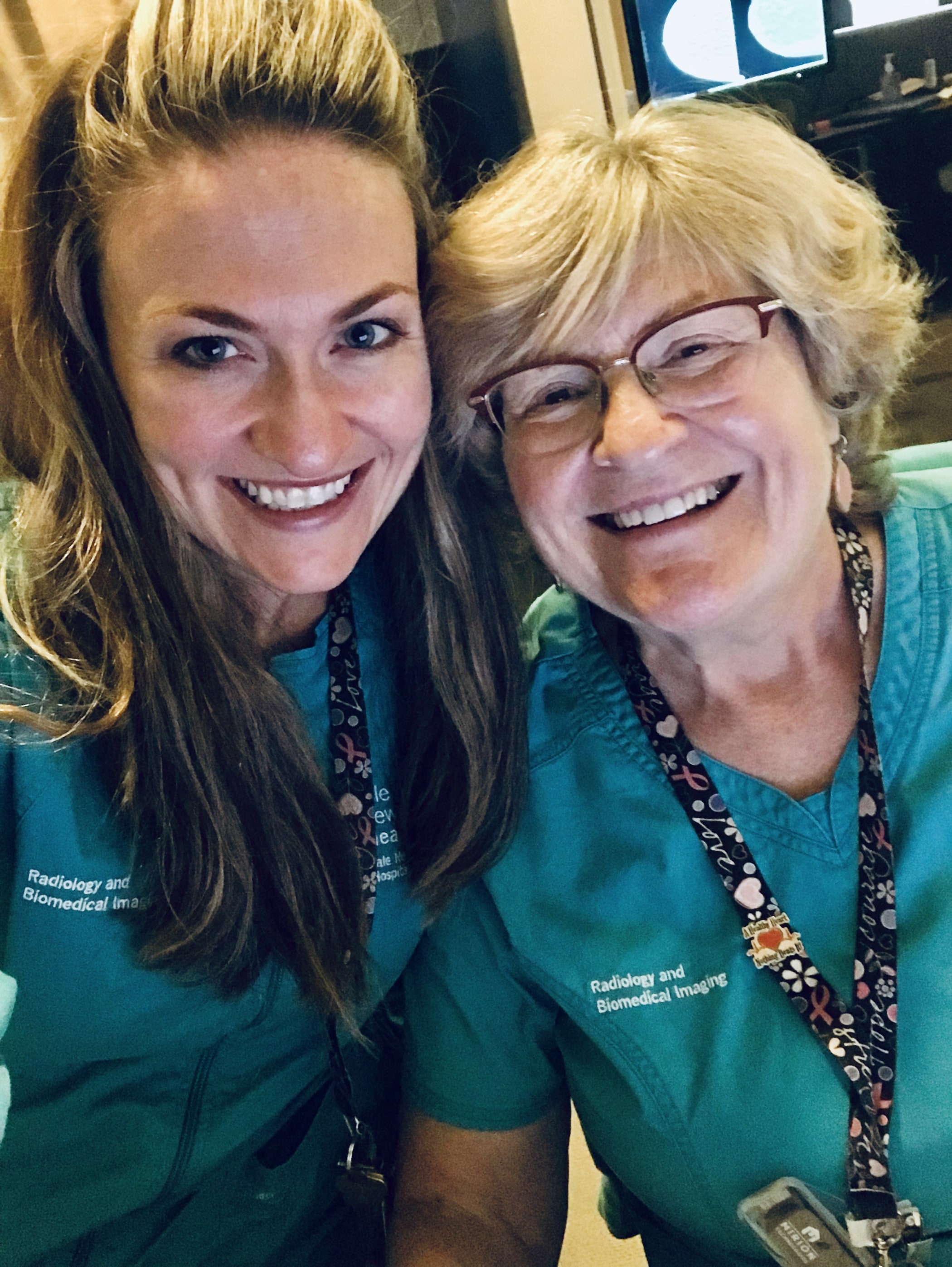 Deane Poirier and her daughter, Juliette Buccilli, have dedicated more than 50 years combined to caring for women who during their annual mammogram screenings at Smilow Cancer Hospital. This mother-daughter team of mammography technologists have prioritized comfort, compassion, and respect for their patients, values which grew from the beliefs Deane and her husband, Maurice, instilled in their children years ago.
Juliette and her brother, Blaine, were taught to respect three important values: be on time, stick up for everyone, and have faith. In creating a loving family environment at home, Deane wanted to carry this through to the patient experience at work, making every touch point for mammography patients welcoming. As a child, Juliette experienced this caring touch at home as well as when she accompanied her mother at work, joining her on "Bring Your Child to Work Day" held at the hospital. Seeing her mom in action, she now understood how much she had prioritized creating a balanced home life.
"My love for her exploded seeing what she did, serving women, and making every place welcoming," said Juliette in retrospect. "It blew my mind because she never brought any of the emotions home, and to see her do it for as long as she did, I have all the admiration and respect for her."

At a crossroads as an uninspired college student, Juliette sat with her parents to discuss what she should pursue for a career. It became clear as they talked that there was only one choice that clicked: Juliette would enroll at Gateway Community College and train as a radiographer, following in the footsteps of her mom. "Deane's daughter" as Juliette was soon known, excelled throughout her training, earning respect from her instructors. She joined the Yale New Haven Hospital Diagnostic Radiology team in 2004 and by 2010, she transitioned to Breast Imaging, officially joining her mom as a Mammography Technologist.
For seven years, Deane and Juliette worked together before Deane's retirement in 2017, after 42 years of dedicated service. As patients learned of the mother-daughter duo, they appreciated the family connection and their level of comfort grew knowing they were among members of the same family. The torch was officially passed when Deane became known around the hospital as "Juliette's mom," a title she was proud of from the moment Juliette entered the world.
"Since the day she was born, it was the most exciting day of our lives and such a blessing," said Deane. "Once Juliette decided she would pursue breast imaging, I knew her career would catapult over mine. She has such a gift with people, full of compassion, and has such a talent with patients. I have always said she has my personality and is smart like her dad."
Juliette's career has led her to become Co-Chair of the Diagnostic Radiology Patient & Family Forum and Chief of Patient Experience for Breast Imaging within the Department of Radiology & Biomedical Imaging, bringing her lifelong passion full circle. And now, Juliette's oldest daughter, at age eight, has expressed her own interests stating that she too, would like to pursue the same career and become a mammography tech, following in her family's footsteps.
Submitted by Eliza Folsom on May 08, 2020