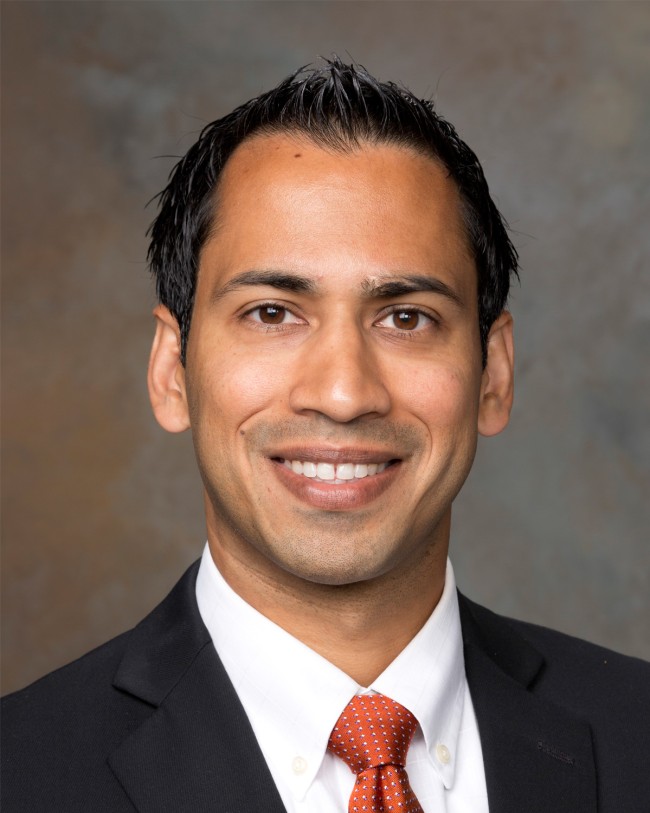 Sajid A Khan, MD, FACS
Associate Professor of Surgery (Oncology)
Biography

Research & Publications

Patient Care

News

Locations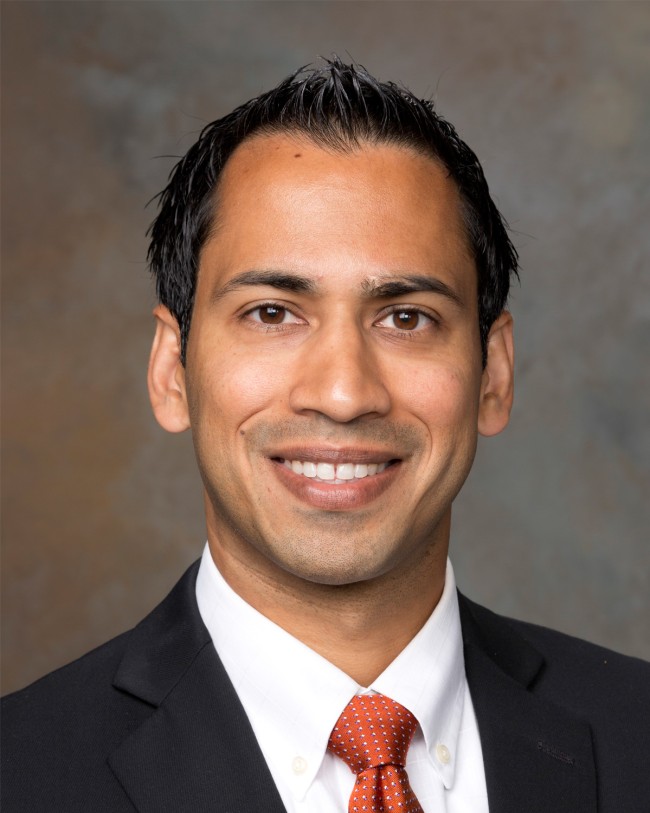 Biography
Sajid A. Khan, MD is an Associate Professor of Surgery (Oncology) at Yale University School of Medicine. He earned his medical degree from the State University of New York Health Science Center at Syracuse and is Board Certified in both Complex General Surgical Oncology and General Surgery. He completed general surgery training at Oregon Health and Science University in Portland, OR and Albert Einstein College of Medicine/Montefiore in the Bronx, NY. He also completed a research fellowship in surgical oncology at Memorial Sloan-Kettering Cancer Center in New York, NY and a clinical and research fellowship in surgical oncology at The University of Chicago Medical Center in Chicago, IL.

Dr. Khan is dedicated to improving the lives of patients with cancer through his clinical practice and research endeavors. His clinical practice specializes in the surgical management of patients with benign and malignant tumors of the liver, pancreas, bile ducts, gallbladder, stomach, and colon. Additionally he treats individuals diagnosed with cutaneous malignancies and soft tissue sarcomas. His commitment to the care of his patients incorporates a multidisciplinary team approach in addition to state of the art minimally invasive surgical techniques. He is an active member of the National Comprehensive Cancer Center (NCCN), Society of Surgical Oncology (SSO), Society of Surgery of the Alimentary Tract (SSAT), Southwest Oncology Group (SWOG), American College of Surgeons (ACS), American Society of Clinical Oncology (ASCO), and Yale School of Medicine Admissions Committee.

In addition to his clinical practice, Dr. Khan is also involved in clinical translational research studying cancer metastases and differences in tumor biology based on ethnicity/race and sex.  Dr. Khan is an NIH-funded, well published, surgeon-scientist who seeks to use modern molecular biology to improve our understanding and treatment of patients with gastrointestinal cancers. Using molecular and clinical markers, he identifies patients with a limited number of metastases (oligometastasis) who will benefit from curative surgical resections.  In addition, his lab studies the relationship with metabolite and protein expression on colon cancer patient outcomes based on race/ethnicity and sex. He also performs clinical outcomes research in all types of gastrointestinal cancers. Dr. Khan has been recognized for excellence in both clinical care and research in oncology.
Education & Training
MD

State University of New York Upstate Medical University (2003)

BS

Siena College, Biology (1999)

Fellowship (Clinical)

University of Chicago Medical Center

Residency (Chief)

Oregon Health and Science University

Residency

Oregon Health and Science University

Fellowship (Research)

Memorial Sloan-Kettering Cancer Center

Residency

Albert Einstein College of Medicine/Montefiore Medical Center

Board Certification

AB of Surgery, Surgery, General (2012)

Board Certification

AB of Surgery, Complex General Surgical Oncology (2015)
Honors & Recognition
| Award | Awarding Organization | Date |
| --- | --- | --- |
| Regional Top Doctor, Surgery | Castle Connolly | 2019 |
| Poster Grand Rounds Top 5 Scoring Posters | Society of Surgical Oncology Scientific Program | 2019 |
| New York Metro Area Top Doctor | Castle Connolly | 2018 |
| Fairfield County's Top Doctors | Westport Magazine and Greenwich Magazine | 2018 |
| Clinical Translational Science Award Scholar | National Institutes of Health/Yale Center for Clinical Investigation | 2017 |
| Ohse New Investigator Award | Yale Department of Surgery | 2017 |
| New York Metro Area Top Doctor, Surgery | Castle Connolly | 2017 |
| New York Metro Area Top Doctor, Surgery | Castle Connolly | 2016 |
| Regional Top Doctor, Surgery | Castle Connolly | 2015 |
| General Surgery Resident Teaching Award | Yale University School of Medicine, Yale New Haven Health System Bridgeport Hospital | 2015 |
| Ohse Surgical Research Award | Yale Department of Surgery | 2015 |
| Donald D. Trunkey Ethics and Professionalism Award | Oregon Health and Science University | 2010 |
| 1st Prize, Resident Award - Outstanding Research Presentation | Northwest Society of Colorectal Surgeons | 2008 |
| Martin Howard Memorial Award - Best Basic Science and Clinical Research Paper | Oregon Health and Science University | 2008 |
| Baker-Moseley Award - Best Clinical Research Presentation | American College of Surgeons, WA/OR Chapter | 2008 |
| Moseley Award - Best Basic Science Research Presentation | Portland Surgical Society | 2008 |
| Nicholae Vasilescu Intern of the Year | Albert Einstein College of Medicine/Montefiore Medical Center | 2004 |
| Coordinator of Syracuse Health Fair | SUNY Upstate Medical University | 2001 |
| Co-Founder/Coordinator of Adopt-A-School Program | City of Syracuse/SUNY Upstate Medical University | 2001 |
| Magna Cum Laude | Siena College | 1999 |
| Presidential Scholar | Siena College | 1998 |
| President Biology Club | Siena College | 1998 |
Professional Service
| Organization | Role | Date |
| --- | --- | --- |
| National Comprehensive Cancer Network (NCCN) | Neuroendocrine Tumor Panel Committee, Member | 2017 - Present |
| Yale School of Medicine | Admissions Committee, Member | 2017 - Present |
| Smilow Cancer Hospital | Park Avenue Medical Center Advisory Board | 2016 - Present |
| Yale Department of Surgery | Grand Rounds Committee, Member | 2016 - Present |
| America Hepato-Pancreato-Biliary Association (AHPBA) | Research Committee, Member | 2016 - Present |
| New England Surgical Society (NESS) | Member | 2015 - Present |
| Yale Cancer Center, Protocol Review Committee | Committee Member | 2015 - Present |
| Society for Surgery of the Alimentary Tract (SSAT) | Program Subcommittee Small Bowel, Member | 2015 - Present |
| Americas Hepato-Pancreato-Biliary Association (AHPBA) | Member | 2015 - Present |
| Society of Surgical Oncology (SSO) | Gastrointestinal Disease Site Work Group, Member | 2015 - Present |
| Yale Department of Surgery | Surgical Clerkship Mentorship Program, Mentor | 2014 - Present |
| Yale New Haven Health System | Oncology Clinical Program Team, YNHHS Bridgeport Hospital, Member | 2014 - Present |
| Southwest Oncology Group (SWOG) | | 2014 - Present |
| Yale School of Medicine | Faculty Research Advisor | 2013 - Present |
| Yale New Haven Health System | Cancer Committee, YNHHS Bridgeport Hospital, Member | 2013 - Present |
| Society for Surgery of the Alimentary Tract (SSAT) | Member | 2013 - Present |
| American College of Surgeons (ACS) | Fellow | 2013 - Present |
| Society of Surgical Oncology (SSO) | Fellow | 2012 - Present |
| American Society of Clinical Oncology (ASCO) | Member | 2012 - Present |
Departments & Organizations